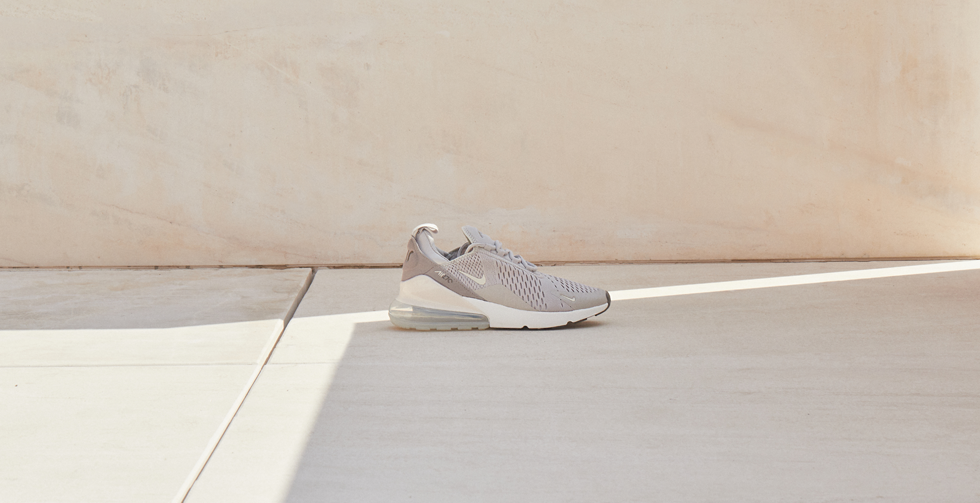 Air Max 270
From its inception in 1987, Nike's Air Max line featured sneakers that blended groundbreaking sporting innovation with novel, captivating looks. Although often worn as lifestyle shoes, none were designed specifically for this purpose. That is until 2018, when the brand launched the Nike Air Max 270 – the very first lifestyle-specific Air Max.
The Air Max 270 was inspired by two early 90s designs, the Air Max 180 and the Air Max 93. From the 180, it took the general shape, including the extended tongue, and from the 93, the revolutionary skin-tight fit. However, as pointed out by Dylaan Raasch, Nike's Senior Creative Director, rather than being a simple hybrid of these two previous sneakers, it was a completely novel shoe with its own unique features.
While the prototype was called 273, the result of adding 180 and 93 together, by the time of its release this had changed to 270 – a previous Nike nickname for the Air Max 93 – to represent the 270-degree span of the Air Max unit in the heel. This specially designed bubble cushion was unlike anything seen on previous Air Max models, coming in at a staggering 32mm. At the time of launch, it was the tallest and most voluminous in production, its extreme height allowing substantial volume displacement through the Air cushion for a soft, bouncy step. Combined with a dual density foam frontfoot midsole, this innovative new Air pocket offered supreme comfort for everyday wear, proving Nike's ambition to design a wholly comfortable lifestyle sneaker.
This solid base provided the foundation, but the shoe had several other beneficial design elements. The upper was constructed for flexibility and breathability through its use of various mesh panels layered at different angles, with perforations of varying sizes spread across its surface. Plastic guards also strengthened the outer and brought a certain style to the Air Max 270, especially with the eccentric Hot Punch tone of the release colourway. Like in some earlier designs, Nike switched up the position of the swooshes, placing small ones on either side of the midfoot and a tiny one on the lateral side of the forefoot. These sat well alongside the heritage branding elements, which were inspired by the Air Max 180, to produce a classy shoe. With such a high level of design and comfort, maybe it's no surprise that basketball legend Kevin Durant wore them. Nike gave him a custom-made pair built to fit his large size 18 feet, which he could be seen wearing in 2017, months before the sneaker's official release, giving the AM270 some pre-release hype.
The design of the Nike Air Max 270 was based on the philosophy that if you are comfortable, then you are relaxed, confident and at ease with your surroundings; therefore, you are ready to take on any challenge. All of this created an authentically modern sneaker and ensured the incredible success of Nike's first lifestyle Air Max.