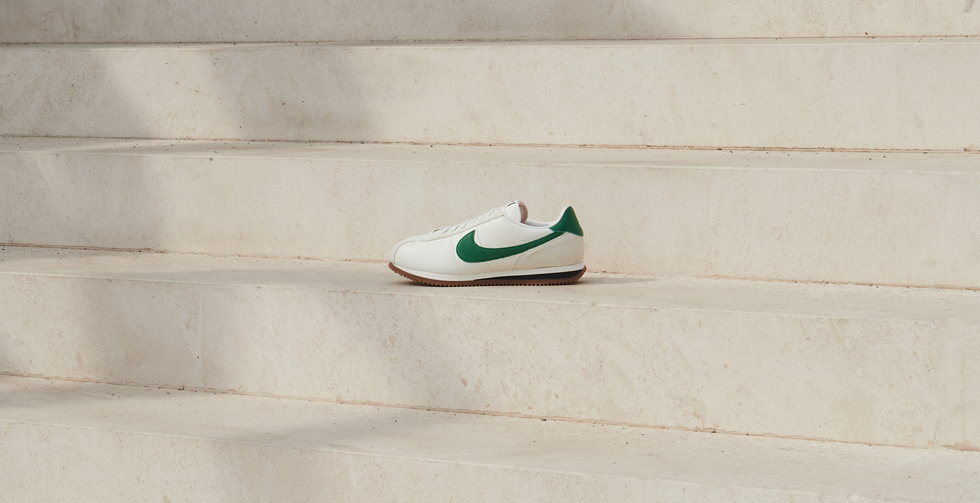 Cortez
In the 1960s, Nike co-founder Bill Bowerman was working at the University of Oregon as a track and field coach. In order to help his athletes perform, he started tinkering with shoe design, making test versions for his students to try out. So, by the time he and Phil Knight set up Blue Ribbon Sports in 1964, he had been creating running shoe prototypes for several years. While the company was initially a United States distributor for Japanese sports brand Onitsuka Tiger, it wouldn't be long before Bowerman got the chance to try out professional shoe design as he created the TG-24 in 1966. Though there are few today who recognise the name, this is the shoe upon which the Nike brand was built, a shoe which would later become the Nike Cortez.
The TG-24 was initially sold as a long-distance running shoe, being labelled "The TIGER "Marathon" shoe" in an early poster. Bowerman's prior experimentation with shoe design stood him in good stead for crafting a performance runner, and the TG-24 had some amazing features. The upper was made of a nylon resin-based material called "Swoosh Fiber" that was both lighter and stronger than leather. It also provided excellent breathability, was durable and moisture resistant and wouldn't stretch out of shape. Added to this cutting-edge upper was a herringbone-patterned sole inspired by athlete Kenny Moore. One of Bowerman's students, Moore had injured his foot while out running in 1965. In an attempt to discover the cause, Bowerman took apart his shoes, concluding that runners needed much better arch support. Following this, he made prototypes with improved cushioning for Moore to test. These informed his design for the TG-24, on which he installed a full-length midsole with spongy foam cushioning to protect against impacts and an elevated heel to prevent Achilles problems.
Bowerman had 300 pairs of the first TG-24 produced. Its excellent performance features made it popular, giving the shoe success in its first year and laying the foundations for future growth. In 1967, Onitsuka asked Bowerman and Knight to give it a better name. With the Mexico Olympics taking place the following year, the pair thought that calling it "TG-Mexico" would draw attention to the design. However, it wasn't long before Onitsuka asked them to change the name again. This time, they decided on "Aztec" in reference to the ancient civilisations that had populated the area around modern day Mexico, but this clashed with adidas' newly created Azteca Gold track shoe. So, after the rival brand contested the name in early 1968, the pair had to pivot again. In a rebellious move, they opted for "Cortez" after the man who brought down the Aztec Empire, Hernán Cortés. Finally, the name stuck and still remains to this day.
In 1968, the Cortez became the best-selling shoe for Blue Ribbon Sports and Onitsuka Tiger, setting a platform for greater future successes. Both brands built upon this, and, in 1971, Blue Ribbon Sports was rebranded to Nike. Under its new name,the company began to put out its own shoes, Bowerman taking care of the creative side and Knight looking after the business itself. In the Cortez, they knew they had a great track shoe that would be perfect as their first model, so they released it in 1972 as the "Nike Cortez", only this time with the brand's new swoosh logo instead of Onitsuka's wavy lines. It saw success in its first year, partly thanks to the endorsement of popular long-distance runner Steve Prefontaine, who was training under Bowerman. However, Onitsuka wasn't happy with Nike using the shoe they had collaborated on and made a legal challenge against its former partner. Even while the fate of the Cortez was being decided in the courts, it was used as one of Nike's official launch models alongside the Marathon and the Obori in 1973. A poster from this time displayed the title "Nike Cortez - a dream becomes reality" and showed the three available versions: one in buffed leather, another with suede and a third made of nylon, which weighed a mere 10.2 ounces, prompting Nike to later proclaim it as the world's lightest running shoe. The image also showed off new features like an anti-wear plug to prevent wear and tear in the heel, "4-way stretch inner-soles" for more comfort and blister protection, and a wider toe for those with larger feet. It also contained "The Cortez Story". This outlined Bowerman's hand in the shoe's design, its evolution from earlier models and its superiority as a distance running trainer. It didn't mention Onitsuka at all, firmly establishing the Cortez as a Nike design.
Eventually, in 1974, an agreement was reached. Both brands could continue to make the shoe, but only Nike could keep the name Cortez. Onitsuka's version became the Tiger Corsair, and the brands went their separate ways. This was a big moment for Nike – with the legal issues resolved, focus could now be turned to building on the shoe's significant early successes. The Nike Cortez was a revolutionary piece of running technology at the time, leading to a demand that the fast-growing company struggled to keep up with. Nevertheless, it propelled the brand to the forefront of the sporting trade for the first time. It also allowed Bowerman the freedom to work on even more unconventional designs, which spurred further growth. Even while new models began to come out, the Cortez remained a favourite amongst runners. Pioneering women's distance runner Joan Benoit Samuelson, who won a flurry of marathons between 1979 and 1985, spoke of her admiration for the Nike Cortez, stating that it gave her the support she needed to confidently push beyond her limits as she trained. During this same period, the model slowly made a name for itself as a fashion item as well. Demand boomed, particularly for the women's Senorita Cortez, after actress Farah Fawcett wore a pair on an episode of Charlie's Angels. The image of Fawcett crouched on a skateboard in her pristine white sneakers with the bold red swoosh emblazoned on the side became iconic and thrust the sneaker into the limelight. It was such a powerful image that American model Bella Hadid recreated it for the 45th anniversary of the Cortez in 2017.
As Nike advanced the brand into the 80s, more sophisticated shoe technologies were introduced, but the humble Cortez continued to find new fans. Elton John wore his own signature design, which combined aspects of the Cortez with those of 1979's Nike Roadrunner, but the shoe really took hold in communities surrounding the hip hop scene. East Coast b-boys donned it for its lightweight build, and on the West Coast, it became a big part of the burgeoning gangsta rap scene. Los Angeles was a particular stronghold, with local gangs wearing its straightforward colourways to signify the particular group they belonged to.
Nike has sought to recognise this special connection between Los Angeles and the Cortez by creating customised designs and collaborating with LA-based celebrities and retailers like Undefeated. Significant partnerships have grown with tattoo artist Mister Cartoon and musician Kendrick Lamar, who have both worked with the brand on multiple models. For the former, the Nike Cortez has allowed him to celebrate the city's Chicano culture, in which the shoe became ubiquitous in the 80s and 90s.
As well as finding a home in West Coast America, the Cortez has enjoyed broader appeal. The classic white Nike Cortez with a red swoosh was worn by Whitney Houston as part of her relaxed outfit choice for her iconic performance at the Super Bowl in 1991. Then a memorable appearance in the 1994 movie Forrest Gump spread the Cortez name even further. In it, Tom Hanks' character is gifted a pair of Cortez, which he goes on to wear as he runs around the United States. The movie won several Academy Awards and was seen all over the world, bringing the shoe a remarkable boost over 20 years after its initial release. So significant was its presence in the film that the red, white and blue model worn by Hanks is now often referred to as the Forrest Gump colourway. More recently, the Cortez has been linked with cult TV programme Stranger Things. It was decorated with retro colours to fit the 80s aesthetic of the show and teased in a poster which had the tagline "Outpace Your Shadow", referencing its heritage as a running trainer.
On top of its pop culture appearances, the Nike Cortez has stacked up hundreds of iterations and been used to honour important cultures and individuals. Notable designs have been released to celebrate key milestones, including a reissue of the leather Cortez in an elegant black with a bold white swoosh for its 40th anniversary in 2012. Five years later, two Los Angeles editions came out to honour Long Beach and Compton. For the same anniversary, a meaningful set of models was made to celebrate Kenny Moore and his part in the shoe's creation. With names such as "Broken Foot", and decorated with graphics of a Bowerman training schedule and an X-ray of Moore's injured foot, they highlighted some key aspects of the story that many people were probably unaware of. By this point, the shoe had even been noticed in high fashion circles, with Vogue writing an article about the return of the Cortez. 2022 marked its 50th anniversary, a moment which was heralded by partnerships with Union Los Angeles and Chitose Abe's sacai.
The Nike Cortez has been around for over 50 years and is still going strong. Throughout the course of its history, this classic sneaker has remained true to its origins, with the early colourways always proving to be popular despite the more than 700 designs available. During its lifetime, the shoe has graced the feet of superstar athletes, become a staple of different communities and been worn by celebrities both on and off screen, establishing itself as a core piece of 20th and 21st century fashion and culture. After the Cortez reached its 50th anniversary, Nike Chief Design Officer, John Hoke, who was just a child when the original came out, described it as the "quintessential expression" of the brand's design philosophy. These words reveal its incredible importance, not only to Nike's history, but also its present and future. With the Cortez as its foundation, Nike became one of the most successful sneaker brands in history – a fact that has never been forgotten as the timeless shoe continues to make its mark to this day.