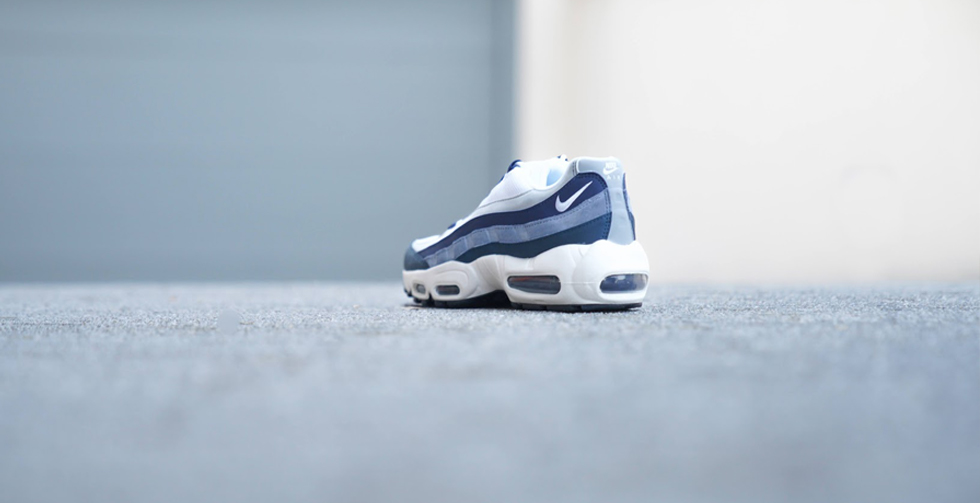 Nike Air Max 95
128 articles
A legendary design born of Oregon's diverse landscape.
Air Max 95
In the early 1990s, Nike's basketball sneakers were flying off the shelves thanks to the rising fame of Michael Jordan. So, in an effort to revitalise the running division, Nike brought in shoe designer Sergio Lozano, who'd been working for four years in the tennis, training and ACG departments. His ambitions were grand in scale: he wanted to build a shoe the world had never seen before. That shoe became known as the Nike Air Max 95.
This bold new aesthetic direction was inspired by the unlikeliest of things; the rainy Oregon weather. Lozano looked out across the lake into the trees on the bank opposite the campus of the Nike Worldwide Headquarters in Beaverton, Oregon, and began imagining the rain eroding the earth below. It was then that the idea came to him: what if the perfect product was inspired by erosion?
These ideas birthed Lozano's sketches that would form the Air Max 95's aesthetic of geological striations similar to those found in the walls of the Grand Canyon. He took inspiration from the very ground that the shoes were built to run on. Lozano then layered these panels in a grey gradient, which, in tandem with the introduction of the first black midsole, helped to hide signs of mud and general wear. The designers lightened the tone by adding Nike's signature Volt shade as a direct nod to their race kit, which has since become a heritage-defining Nike colour theme.
Built as a running shoe first and foremost, Lozano sought to honour the human anatomy in the Air Max 95's design: the upper panels resemble muscle fibres; the nylon speed lacing eyelets with reflective weaving are inspired by the ribcage; while the midsole and heel mirror the vertebrae.
The Nike Air Max 95 further honoured the runner by providing a mesh lace guard for breathability and increased cushioning through the visible air in the forefoot. The original Air Max underfoot technology was tuned to an air pressure of 25 Psi, which is considered ideal for running, and the shoes came with a static reading printed on the side. Then there were the 3M Scotchlite reflective uppers for extra flair and roadside visibility. Lozano was so confident in the individuality of the AM95 that he left the iconic swoosh off the shoe in the prototype phase and only reintroduced it on a smaller scale towards the back of the outer.
Culturally, the 95's bold aesthetic was a hit and, as such, was adopted by both well-known music artists and athletes. On its release, the Air Max 95 was unconventional, rebellious, against the status quo, and, therefore, hugely loved. One thing is for sure: it established Nike as footwear pioneers in the 90s and paved the way for their glorious decade of continuous innovation.