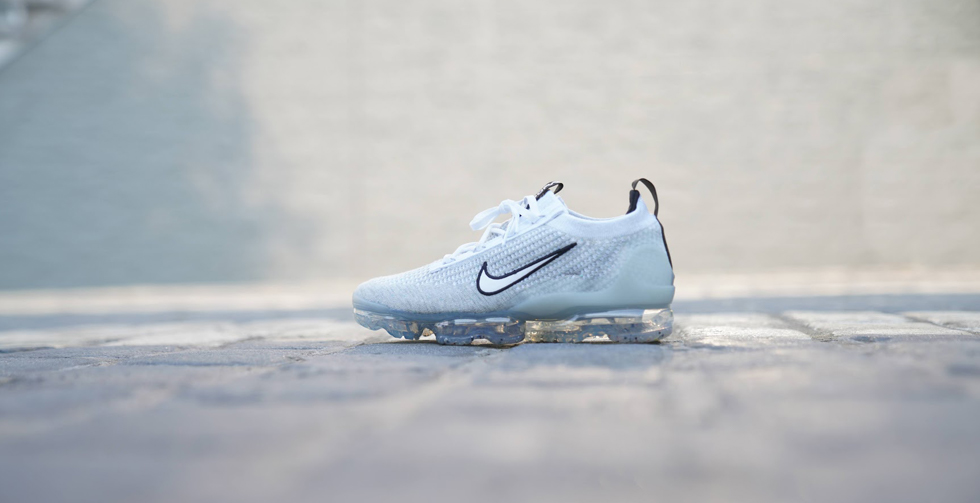 Nike VaporMax
115 articles
Walking on air: the ultimate freedom.
Air VaporMax
Initially, Air technology was hidden inside the midsole; in 1987 the Air Max 1 added a small window to reveal the Air; in 2006 the Air Max 360 completely replaced the foam in the midsole with air; and in 2017 the Nike VaporMax was released, bringing people as close to levitation as they can get in a pair of sneakers.
The shoe came from a breakthrough in manufacturing technology that allowed Nike's designer Tom Minami to build a single, standalone unit acting both as an outsole and midsole without the need for other materials. While the shoe tends towards simplicity and unity, the VaporMax sole mold is composed of over 39,000 components, taking fifteen attempts to perfect, and seven years to complete; it is anything but simple.
Nike VaporMax technology works like a series of pistons. The foot applies pressure which moves through the semi-freestanding tubes to achieve an evenly distributed feeling of softness for the wearer. When the foot lifts off the ground, the pressure releases, creating a springy bounce. From a design perspective, Minami used a translucent, pillowy aesthetic of the Air Sole to give the impression that the wearer is floating, or walking on a cloud.
The Flyknit upper with its naturally grooved texture in the original Pure Platinum colourway reflects a similar nod to the skies too. The upper is secured to the foot with Nike's FlyWire lacing system, but still achieves a lightweight feel thanks to the ultralight yarn and its seamless fusion to the airbag. This is indicative of a larger streamlining and reduction process that seeks to deliver the actual sensation of walking on air.
The shoe might boast a runner's sense of cushioning, yet that doesn't explain its massive popularity outside of running circles. This, quite simply, is because it looks cool. Hints of this sentiment are found in the Nike x Comme des Garcon collaboration, which debuted in October 2016 on the Paris Fashion Week runway. An early release on February 8th, 2017 followed; then a month and a half later, Nike released the shoe itself. It is a telling timeline which suggests that Nike envisages the Air VaporMax as a truly modern sports luxe shoe.