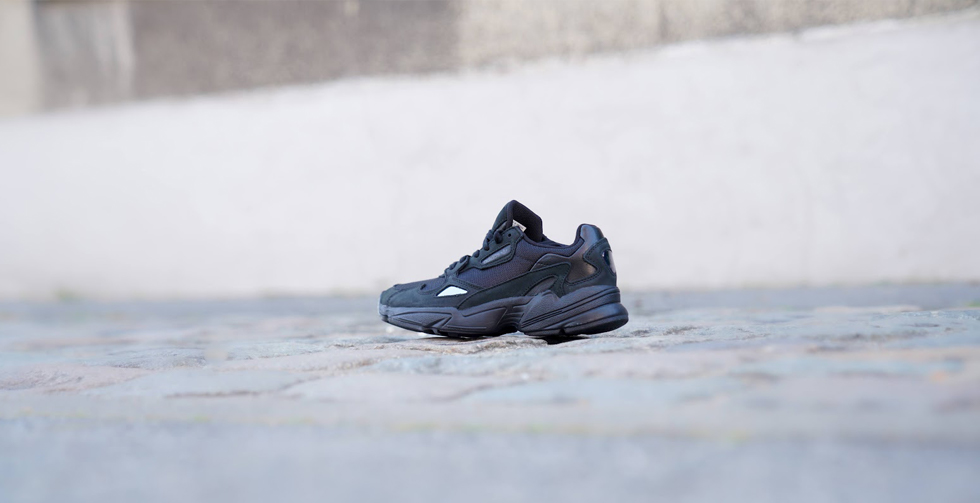 Falcon
In 1997, in Falkendorf, Germany, a stylish running shoe was born.
The adidas running team of the late 90s had a challenging training route that took them along the same roads and tracks, through the same beautiful forests and countryside villages surrounding the adidas HQ every single day. They were pushing both their own limits and those of an as yet unnamed new adidas running shoe. One of the villages they passed through each day seemed to resonate with the group. It meant something to them. This village was called Falkendorf.
This name was adopted as the name of the shoe but tweaked to suit the international market to become the "Falcon Dorf". This drew on the English word "Falcon" and its connotations of speed, agility and tenacity, which were perfectly suited to the runner's ethos.
In 1997, in Los Angeles, a star was born.
Born into a highly public family, Kylie Jenner went on to build a hugely successful career as an internationally esteemed model, influencer and celebrity in her own right. As the face of the "Falcon W", adidas' female specific design based on the vintage runner the "Falcon Dorf", Jenner embodies the retro-running shoe's energy, female-empowerment and aesthetic.
The "Falcon Dorf", Yung-1 and Yung-97 models are all based on the original shape of the Falkendorf '97 and exemplify adidas' attempt to capture the 90s fervour that gripped the late 2010s. Because the shoe was launched in 1997, the same year Kylie Jenner was born, she wasn't around for the initial release, but expressed her delight on its return.
The "Falcon W" comes with a typically 90s chunky midsole and heel which are integral to its vivacious 90s aesthetic, but serves a practical end too. The EVA-compound midsole houses a Torsion System which stabilises each step, no matter the surface. This system also helps connect the rear and front anatomy of your foot to deliver versatility of movement, ease and comfort. In some models, the shoe comes with an OrthoLite® sockliner embedded for an extra-soft step while also deliveringanti-microbial and sweat-wicking freshness.
The upper is constructed from a 90s maximalist mosaic of suede, synthetics, mesh, logos and occasionally, reflective accents. This allows for a dizzying variation of colourways, enabling sneaker-lovers to be transported back to '97 and capture the wonderful style of the time.
The adidas "Falcon W" embodies the same late-90s' feel of its predecessor, but, re-released as a female silhouette, it now serves an ambitious, creative and empowered generation of women. While the "Falcon W" might feel cosy when worn, it has the appearance and capability of a daring and boundary-pushing shoe that's ready for anything.