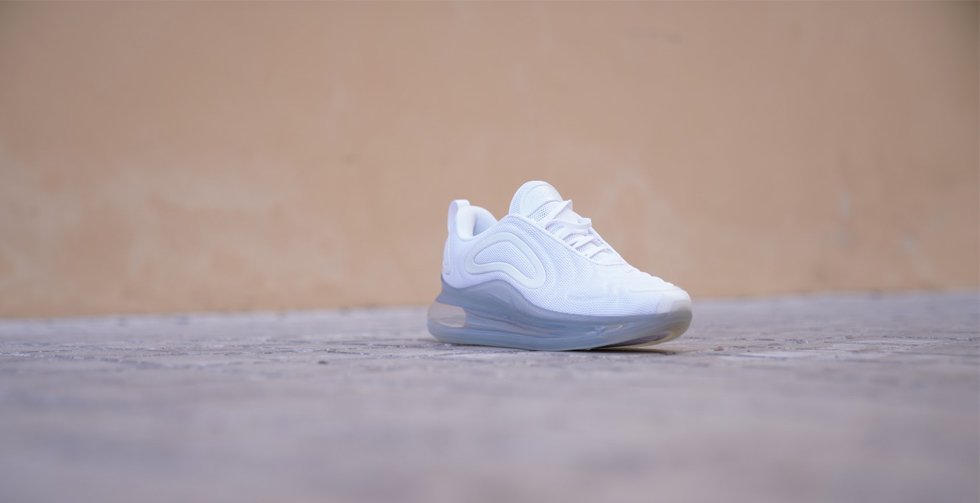 Nike Air Max 720
79 articles
A supremely comfortable lifestyle sneaker with more Air than ever before.
Air Max 720
During the design process of the Nike Air Max 720, Footwear Design Lead Jesi Small wondered if its Air bag was too big. Of course, within the context of Air Max's groundbreaking technology, which constantly seeks to test the limits of innovation and style, this might seem rhetorical. But where previously the visible Air Max unit had communicated performance, the Air Max 720's design suggests that it is the pinnacle of style and comfort.
At an imposing 38mm, this is Nike's tallest ever full-length Air cushion, and its 360-degree visibility spanning the length and height of the outsole earned it the name "720". The breathable engineered upper mesh is designed with puffy, concentric patterns, making it not only look cosy, but also feel great as well. Meanwhile, three-quarters of the Air Max 720 is made using recycled material from the manufacturing process, which falls in line with Nike's "Move To Zero" initiative, which aims to reach carbon neutrality in the future.
The Air Max 720's original release on February 1st, 2019 featured colourways that coalesced around a simple and powerful theme: nature. As such, the 720 has a memorable roster of dynamic colourways that honour awe-inspiring natural occurrences.
Two editions emulate the Northern Lights: purple and blue for the night and mint green for the day. Similarly, the changing colours of the day inspire the "Sunrise" sneaker, with its orange to red gradient from toe to heel, and the "Sunset" colourway, going from pink to purple and with the addition of a translucent blue heel. An entirely black shoe, "Total Eclipse" is a metaphor for the complete darkness of an eclipse. Finally, the great seas and furtive lands are reflected in the "Sea Forest" colourway, with its gradient from turquoise toe to dark blue heel, and the "Pink Sea" shoe that shifts from a pale blue to a striking red at the rear. This theme embodies the Nike Air Max 720's synergy of advanced innovative technology and a philosophy embedded in nature.
So, what happens when Nike's more environmentally-conscious, lifestyle-oriented future meets the heritage of the Air Max tradition? Something emerges that is completely unique to the present and with more Air than ever: the Air Max 720.