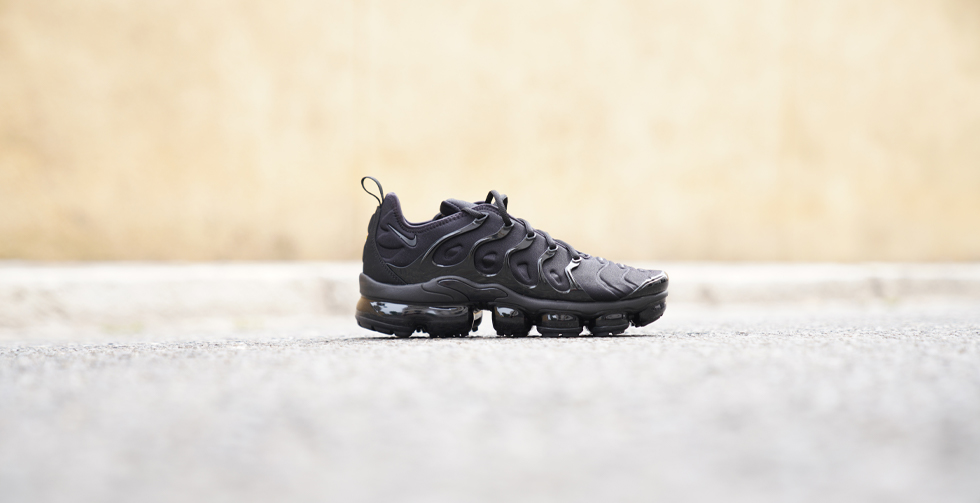 Nike VaporMax Plus
3 articles
Inspired by the Californian beach.
Air VaporMax Plus
One of the VaporMax design team's biggest worries was how any upper would hold on to their new, innovative and fully visible Air Sole. They knew how well all kinds of materials stick to a foam midsole, but now the foam midsole wasn't there to attach the upper to, it had to be glued straight to the Air units. It sparked the imagination of sneaker-focused designers. Lots of uppers from older running shoes got the chance to be fitted to the VaporMax sole. Nike Air VaporMax Plus is a great example. Here's the formula: Air-only sole + Air Max Plus upper. A shoe with a spacecraft-like and at the same time 90s feel. The Nike VaporMax Plus was launched in a variation of interesting colour combinations. The Black Volt, the Sunset, with its recognisable rainbow fade, and the Obsidian Blue were resurrected. Colours made famous in the last century now got a second life on a 21st century sneaker.
Note: the famous 'Tn' logo was replaced by 'Vm'. The VaporMax Plus lends itself well to collabs. Take the winning pair of the 'Nike On Air' design competition, designed by Lou Matheron. The main reason for its success was the emerging trend, which began in 2015, of young people wanting to wear sneakers with a 1990s look. Air Max Plus was launched in 1998. A few years before that, Nike designer Sean McDowell was enjoying a stunning sunset on a Californian beach when he suddenly got the inspiration for the Plus's colourful upper. The palm trees blowing in the wind along the shoreline inspired the wave-like pattern. Nike went on to design some black, grey and solid white trainers. On top of that, the American brand released a colourful rainbow edition. They ingeniously combined past and future, with a 90s upper and a futuristic base.